The LARC is dedicated to collaborating with faculty in our mutual efforts towards student academic success, student support, retention and graduation.  If we are to achieve our goal of being able to assist all students in all disciplines, we must work closely with the instructors who know those students best. If you would like to use our services, or if you have any suggestions for resources beyond those available on our website, please contact us. We welcome your comments and suggestions.
Set up a LARC Intro Tour or Special Presentation
This form allows you to request a visit from the LARC (a LARC "tour") via Zoom, or a specialized presentation focused on a specific skill set or topic, such as study skills, time management, etc.: Intro Tour/Special Presentation Request Form
LARC Syllabus blurb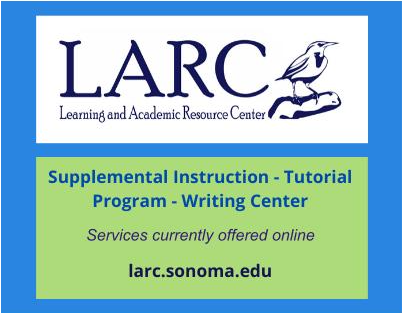 To inform your students about the LARC and the services that we offer, please use the following statement on your course syllabi or add the LARC Canvas Resource Link to your Canvas Course (just search "LARC" in the Canvas Commons!): 
The SSU Learning and Academic Resources Center (LARC) is located on the first floor of the University Library, and houses three academic support programs for students: the Tutorial Program, Supplemental Instruction Program, and the Writing Center. All LARC academic support services are available ONLINE during the Spring 2021 term. The LARC peer tutors and SI Leaders provide a dynamic, supportive learning environment for undergraduate and graduate students. Come chat with us about how you can get help on your essays, study for math tests, and find collaborative study groups for those challenging courses. We are here to support you in being a successful SSU student! Visit the LARC website for more information about supported courses and services, and to make a tutoring appointment. 
Request a Writing Center Workshop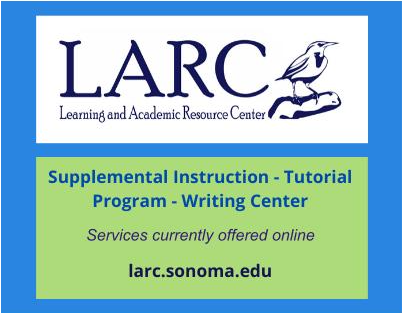 This form allows you to request a Writing Center workshop focused on a specific project, paper, or topic. These workshops are currently offered over Zoom: Request a Writing Center Workshop