The LARC uses WC Online to schedule all tutoring appointments. You can follow the steps outlined below (with screenshots) or click on the image below to watch our recorded guide that takes you through the entire process.
Instructions for WC Online
Video Guide to Making Tutoring Appointments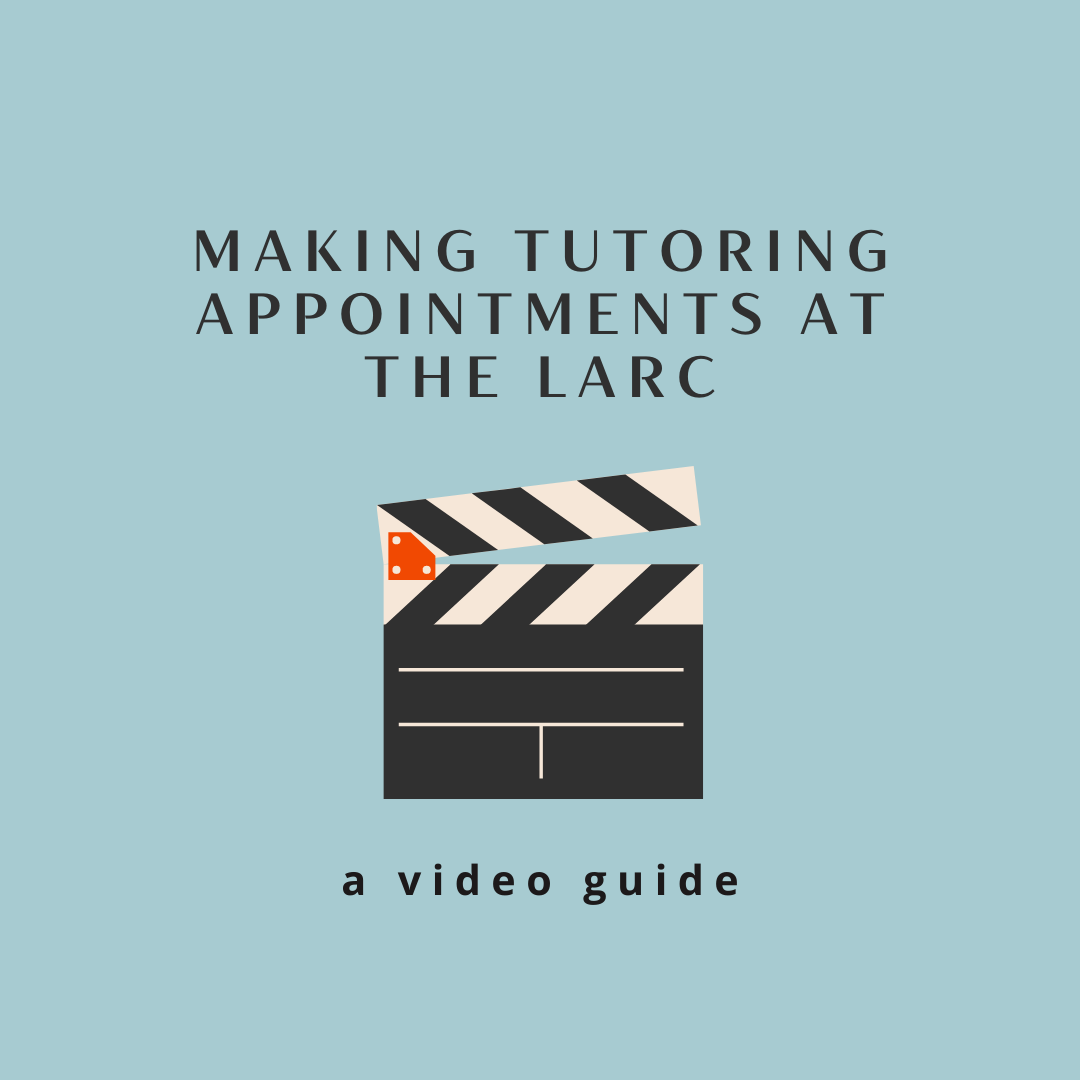 Setting Up Your Account
Login to your Student Portal and click on the LARC-WC Online button! 

  

Complete all of the fields on the "Register for a New Account Page" that pops up.
*Please make certain you fill out all required fields (marked with a red asterisk). You must use the email account assigned to you by the university, ending in @sonoma.edu.
Under "Email Preferences" we suggest selecting "yes" for each option. This will ensure you're in the loop for appointments you make and/or cancel, any changes to your appointments, and alerts about the schedule. 
*NOTE:  If you have previously visited the Writing Center or Tutorial Program, you may already have an existing account with WC Online. You may need to login again the first time you use the new Student Portal tile. Forgot your password? You can reset your password by clicking "Reset Password" under "Having trouble logging in?" or email us at larcdeskw@sonoma.edu for assistance. If you previously had an account with a non-SSU email, you will set up a new account, and then email our Admin Coordinator at estesg@sonoma.edu to get the accounts merged. 
Understanding the Schedule
Once you have signed in, you can toggle between the schedules using the drop-down menu at the top, under the SSU logo (marked with the arrow). For subject-specific tutoring such as math, chemistry, biology, etc., you will select "Tutorial Program - Subject Spec." For any assignment that relates to writing, you will select "Writing Center".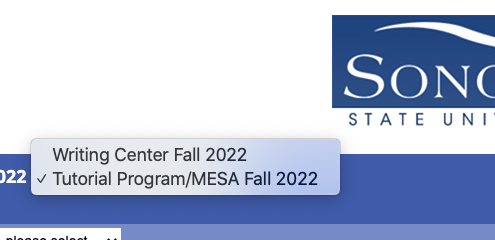 Appointment blocks by Color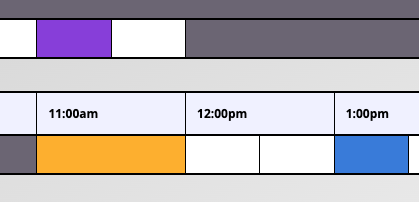 White = Open (Book yourself an appointment!)
Gray = Unavailable (time to book has passed, OR is not on the tutor's schedule)
Blue = Booked appointments (i.e. someone already has that time)
Purple = That time has been blocked by an administrator and is not available to book
Yellow - Your appointment, once you've made one
Making an Appointment
Simply click on any white space (open appointment) to set up your tutoring session, after checking to see if they are in-person or online (via Zoom), depending on which modality you would prefer.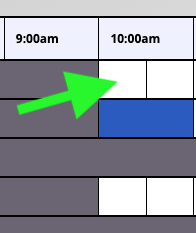 The tutor's modality is indicated by their name on the schedule: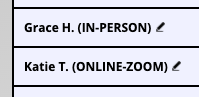 A pop-up window will open so you can answer questions about the length of the appointment, the subject, instructor name, and assignment. Please let the tutor know what you will be working on so they can prepare for your session. Also, make certain you pick the correct tutoring modality from the drop-down menu as follows
Two options available for Tutorial Program:


Four options available for Writing Center:
Note that if you are a 99T student making an extra appointment, you will need to select the correct modality of 99T appointment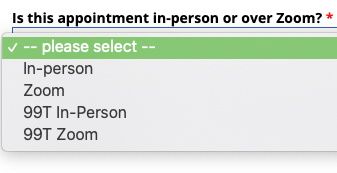 Once you have completed all the fields, select "confirm appointment" at the bottom of the pop-up window. You will receive an email confirmation of your appointment day and time, but it is always a good idea to note the time, day, and modality for yourself.
PLEASE NOTE: For the Tutorial Program Schedule, limiting the view through the drop-down "Course/Appt. Type" menu can be very helpful. Select the course you need help with and this will limit the schedule so you can see which tutors are available, and when, for that specific course.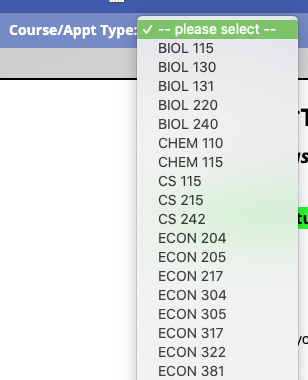 Accessing Your Appointment
In-Person: Please come to the LARC on the first floor of the library a few minutes before your scheduled appointment. You will need to check in at our front desk, and will then be directed to your tutor. Please come prepared with your assignment and/or class materials.
Over Zoom: Accessing your appointment is easy! Login to your Student Portal, click on the LARC-WC Online button, and navigate to the day and time of your appointment. Click on the appointment, and the appointment window will open. At the top of the tutor bio, you will see a Zoom link that looks like this:

Simply click on the link to start your appointment! If you need more instructions/assistance, please check out our guide below, or email us at larcdeskw@sonoma.edu
Zoom Student Guide to Online LARC Services
Appointment Guidelines & Helpful Advice
When booking your appointment, we recommend that you read the tutor bio available on the appointment window, or through the Tutor Profiles available on our website (Tutorial Program Tutors, Writing Center Tutors). This will help you select the tutor that best meets your learning preferences and tutoring needs. If you need additional help selecting a tutor, email us at larcdeskw@sonoma.edu
Please be on time for your appointment.
Be prepared for your appointment: have your assignment at hand, as well as any books and other supplies you may need. Please be prepared to share your screen or a Google doc if you are working over Zoom. Your tutor can help guide you through sharing.
Please let the tutor know if you need proof of the appointment for your instructor. They will email you the report form they complete at the end of each session.
Canceling Your Appointment
Please note the following cancellation policy: Appointments must be canceled with 2 hours notice, or they may be considered a "no-show." If you have three marked "no-shows" the scheduling system will automatically disable your account, and you will receive an email notification that this has happened. To reinstate your account, you must contact our Admin Coordinator at estesg@sonoma.edu.
To cancel your appointment, click on your appointment in the schedule, scroll to the bottom of the pop-up appointment window, and select "cancel appointment." Another small window will pop up, asking you to verify that this is what you want to do, and you will click on "OK" to finish canceling the appointment.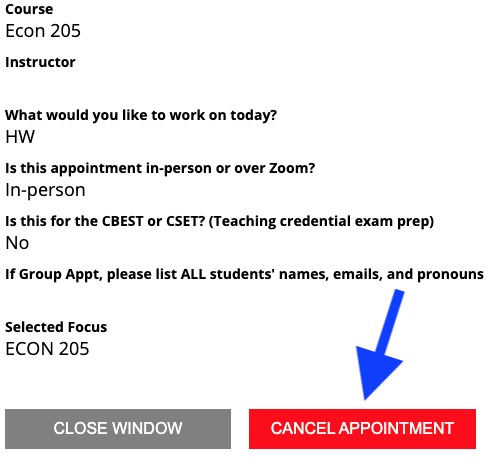 Please note: If you are trying to cancel less than 2 hours before the appointment, you will not see this option. In this situation, please call the LARC at 707-664-4401 Monday through Thursday between 9:00 am and 5:00 pm, Friday between 9:00 am and 4:00 pm, or email the LARC at larcdeskw@sonoma.edu. You may also email regarding cancellation outside of business hours.
Note for English 99T Students
If you have enrolled in the one unit credit/no credit English 99T course, you will need a recurring appointment each week in order to complete the sessions needed for credit. You must contact the LARC Admin team by coming into the center during open hours, calling 707-664-4274, or by emailing larcdeskw@sonoma.edu to make these appointments. Students cannot make recurring appointments for themselves through WC Online -- this must be done by a member of the Admin team.